D20 Additive Manufacturing Technical Committee Makes a Call to Action
October 2022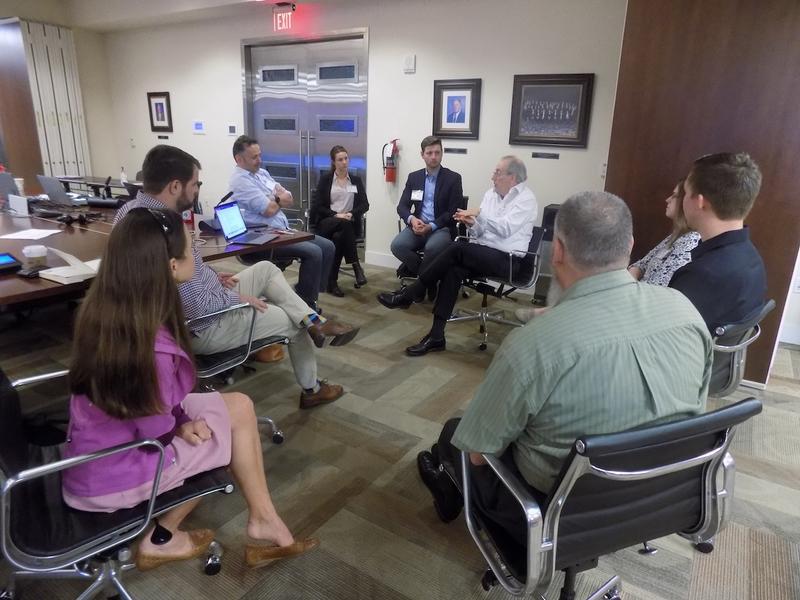 The AWS D20 Committee on Additive Manufacturing met at AWS Headquarters to discuss a new American national standard. D20 Chair Bill Mohr (middle, in a white shirt) leads the discussion. Also pictured are (clockwise from Mohr) Co-chair Caroline Vail, Edward Peterson, Peter Daum, Teresa Melfi, Evan Handler, Andrzej Nycz, Jade Lee, and Daniel Urban.
Additive manufacturing (AM) is a rapidly growing and changing field. Industries around the world are utilizing AM technologies to expand capabilities, including the fabrication of metal components. As the AM industry continues to expand, it is important to remember the role that standards play in shaping its growth. More and more organizations have started committees to develop standards for AM to help guide the industry. Therefore, volunteers are essential.
The volunteers within the AWS technical committees provide the knowledge to develop the standards and other technical publications that serve the forever-evolving welding industry.
"AWS standards survive on the work of volunteers, and getting skilled, engaged volunteers is key to a good standard," said Amber Nalani Black, R&D engineer, sigma division, at Los Alamos National Laboratory and chair of the D20B Subcommittee on Additive Manufacturing Using Wire.
With more than 1500 volunteers and 200 AWS technical committees, subcommittees, and task groups, there is an opportunity for everyone to contribute. And with that, the AWS D20 Committee on Additive Manufacturing is making a call to action.
The committee, which comprises of 49 members, is responsible for the development of AWS standards for additive manufacturing. It addresses specific segments within the AM area with its tasks groups, including the new D20A Subcommittee on Additive Manufacturing Using Powder, in which there are 12 members, and D20B Subcommittee, in which there are 21 members. D20 Committee members are responsible for updating and maintaining the AWS D20.1, Specification for Fabrication of Metal Components using Additive Manufacturing.
The committee is recruiting all types of members with any level of interest or expertise as well as members with specific interests (educators and general interest) within the AM industry. Additionally, you don't have to be an AWS member to volunteer. Anyone can apply by filling out the online AWS Technical Committee Application form at aws.org/committeeapp.
"AWS is in a unique position right now to leverage the welding expertise of our technical volunteers to provide a more comprehensive approach to specification of additive manufacturing and harmonization with other AWS technical standards. We hope to recruit more volunteers to help us in this important effort," said Mario Diaz, program manager, standards development, at AWS and secretary of the D20 Committee.
When a committee member first joins, he or she is included in all future committee correspondences, including meeting invitations. Applicants may be considered for a voting member or advisory role by participating in meeting discussions, contributing proposals, and demonstrating a sound working knowledge of the technology and specification.
"During committee meetings, it's every member's responsibility to listen to the discussion and add their opinion when they feel moved, make and vote on motions, and volunteer to take on drafting work for the standard," said Black. "The main responsibility both in and out of the meetings is to remain dedicated and engaged to the work of drafting a standard that meets the needs of the welding community and measures up to the expectations for an American standards document."
The D20 Committee has begun work on a new American national standard, titled AWS D20.2M/D20.2, Specification for Additive Manufacturing (AM) of Metal Components Using Wire Directed Energy Deposition (DED).
"The purpose of this standard is to provide a stand-alone document outside of AWS D20.1, using wire as the source of the deposited material," explained Diaz. "Additionally, the committee will be repurposing the D20.1 specification to focus on powder bed fusion, which will remove wire DED from D20.1 to instead cover it in D20.2."
To accomplish these goals, the D20 Committee formed two new subcommittees: The D20A Subcommittee will be responsible for the revisions to the D20.1 specification, and the D20B Subcommittee will be responsible for the D20.2 specification.
"D20B members are having lots of critical conversations about what is actually entailed in creating a wire feedstock additive manufacturing standard, and without members who are passionate and have questioning attitudes, these discussions would never take place," said Black.
The D20 Committee provides the space and resources for volunteers to collaborate through in-person and virtual meetings. The committee also provides an important forum for exchanging ideas, networking, and creating partnerships.
"Be ready for a lot of interest in the experience, skills, and personal qualities you bring to the D20 Committee since we all recognize that we will be winning as a team when helpful documents reach the AM community," said Bill Mohr, principal engineer, structural integrity, at EWI and chair of the D20 Committee. "There is a much wider community of people that one can meet through AWS than one would see in any one company. This lets me tap into a wider variety of experiences. When I meet something new or unusual, I have a broader network to connect into to have explanations."
The time to act is now! Become a volunteer today.
This article was written by Roline Pascal (education editor) for the American Welding Society.