AWS Education: Welding Education for the Entire Career Arc
September 2022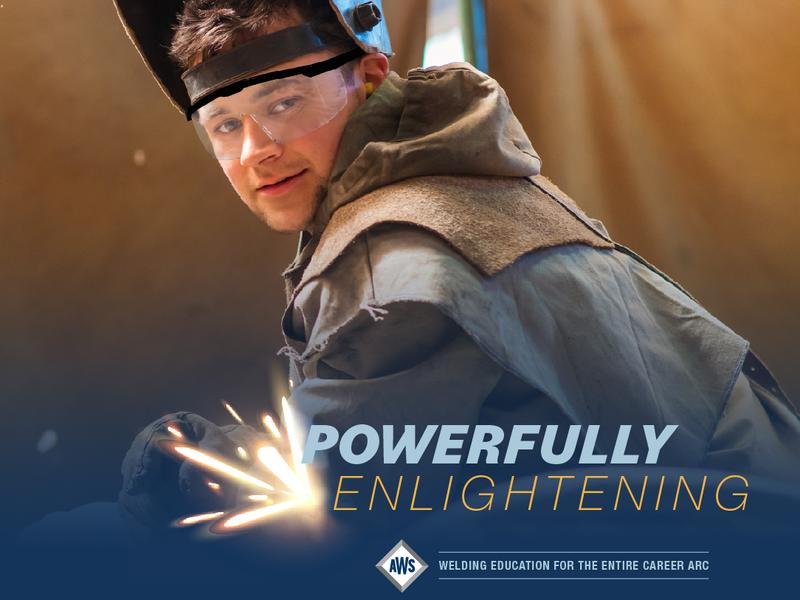 Welding is a dynamic industry with endless learning opportunities. And no matter where you are in your career, AWS Education offers comprehensive training resources that light the way toward your next goal.
AWS Education
AWS Education offers training resources for welding professionals, educators, and institutions. It offers an unmatched selection of in-person and virtual education opportunities. Depending on your needs and preferences, you can learn directly from experienced AWS instructors or go through an online class or webinar at your own pace.
"Through AWS Education, we offer welding education for the entire career arc," said Gary W. Konarska II, Executive Director & CEO." You can develop new skills, discover the latest technology, brush up on foundational principles, or prepare for a certification."
Here are a few ways you can make the most out of AWS Education:
Ignite your Career
If you're considering getting into welding or looking to put your new career on the fast track, AWS Education is your go-to partner for training resources. Our flexible learning formats can complement your hands-on training or help you prepare for a certification exam. Classes are led by expert instructors, and technical information is presented in an engaging, easy-to-understand format.
Shape your Ideal Career
In welding, the opportunities for advancement are limitless – it comes down to deciding what you want to accomplish in your career and putting in the work to make it a reality. AWS Education offers unparalleled resources to enhance your skills, develop a specialty, or stay apprised of the latest fabrication technology.
Whether you're aiming for advanced certification or seeking Professional Development Hours (PDHs) or Continuing Education Units (CEUs), AWS offers expert-developed learning opportunities and flexible formats.
Find your Path to Becoming a CWI
For many welding professionals, reaching the status of AWS Certified Welding Inspector (CWI) is the pinnacle of their careers. AWS Education offers flexible options to prepare for the rigorous CWI exam and learn valuable concepts and principles you'll use on the job. Once you earn your CWI Certification, you can take advantage of additional resources of recertification and endorsements.
Enhance your Instruction and Impact
Welding educators directly influence individual careers and the overall welding workforce. With AWS Education, you can combine your experience and passion for welding with proven instructional techniques. AWS provides industry-leading curriculum, guidelines, and support to help you teach welding students using proven principles. From ready-to-go lesson plans to convenient online courses, our resources make it easier to teach basic concepts (including safety, mathematics, and process fundamentals) and help you provide hands-on instruction that will resonate with students.
Empower the Next Generation of Welding Professionals
Welding is a high-demand field. Not only does the skilled trade offer students a stable, rewarding career, but trained welders are needed in many industries and for critical infrastructure projects. AWS Education supports schools and welding training programs in various ways while establishing a single source of truth for administrators and instructors.
Member Perks
No matter which AWS Education offering you choose, you'll get the most up-to-date information and best practices, all backed by the globally recognized authority that sets the standards for the welding industry. While you don't need to be an AWS member to take advantage of training resources, educational discounts are just one of many perks of membership. To become an AWS member, visit aws.org/membership.
Register for an AWS Education Course Today. If you're interested in learning more about AWS Education, please visit aws.org/education.