Staying Safe When Using Abrasive Products
November 2023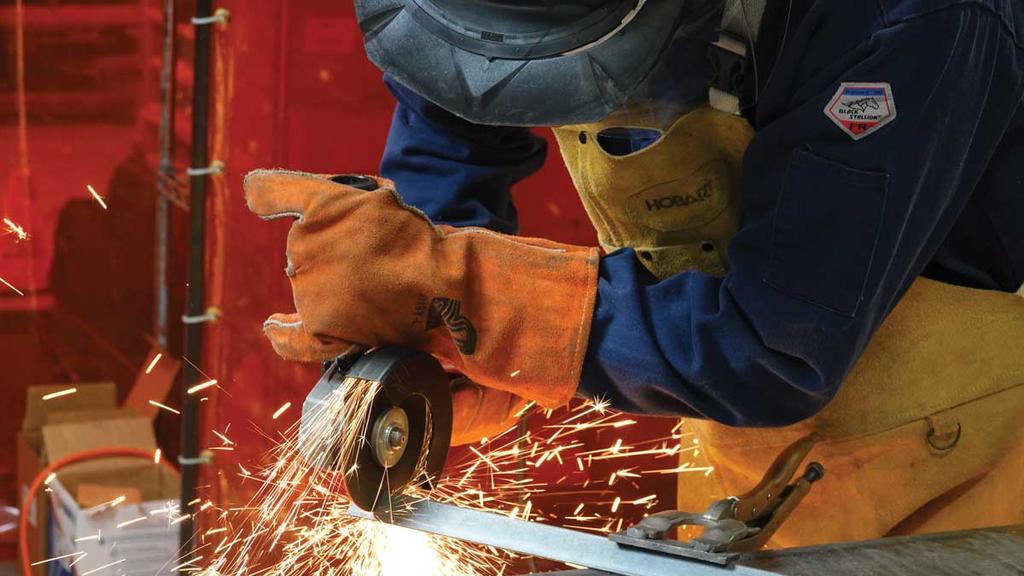 In a manufacturing environment, safety isn't covered by a one-time seminar or meeting. Here are some tips for safe use of abrasive products and why safety is critical for the operator's well-being and productivity.
Common Safety Mistakes with Abrasives
Among the most frequently used types of abrasives, there are several common mistakes that can result in an un-safe environment.
Cutting wheels: Many operators don't realize that the type of tool guard they should use differs depending on the type of cutting wheel being used. When using a Type 1 (or flat) cutting wheel, ANSI specifies the guard should come over the top of the wheel covering 180 deg of the abrasive wheel periphery and both sides of the wheel. This is referred to as a half-moon guard. Often these guards must be purchased separately from the tool since Type 27 guards are typically the standard provided with purchase.
Combination wheels: Not every 1/8-in. combination wheel on the market is the same. Some 1/8-in. combo wheels have two layers of fiberglass reinforcement holding them together. These are designed for vertical cutting and notching only. Other wheels have three layers of fiberglass reinforcement and can be used for cutting, notching, facing, and grinding thanks to that extra layer of support. Grinding at an angle with an 1/8-in. wheel that is only designed for cutting or notching (vertical use) can cause the wheel to come apart, resulting in a highly unsafe situation. Always review the proper use diagram on the 1/8-in. combo wheel blotter. If it does not have one, assume it is only to be used vertically.
Flap discs: One of the most common safety mistakes with flap discs is when operators try to use these products on their underside or grind on their edges. This can rip the flap from the backside of the disc. Never use a flap disc on its edge unless the product is specifically designed for that application.
Wire brushes: Operators will often position a knot wire brush like they do a grinding wheel, using the brush on its edge. But wire brushes aren't designed to be used this way, so they won't work effectively, leading to wire breakage. Instead, orient the brush so the tips of the wires are striking the metal and doing the work. Also, don't push down too hard with a wire brush, which can bend the wires and cause long-wire breakage.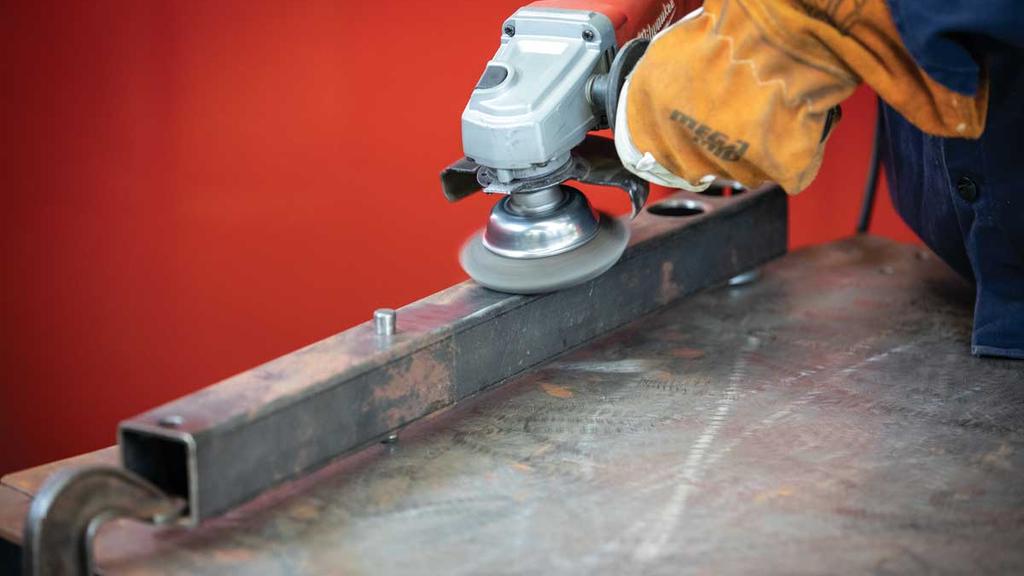 Tips to Improve Safety When Using Abrasives
In many cases, safe use of abrasives involves common sense and being aware of one's surroundings. There are also some best practices that can help reduce safety risks. Consider these tips for safe abrasive use.
Always use the proper PPE. Safety gear goes a long way toward protecting the operator if an unsafe situation does arise. (Check out the sidebar in this article on PPE recommendations.) Operators should also avoid wearing loose-fitting clothing and tuck their shirts in to prevent problems when working near hot workpieces or spinning tools.
Pay attention to speed and size. Always match the speed and size of the abrasive to the speed and size of the tool. Even though an abrasive may fit a specific tool, that doesn't mean it's designed to be safely used on it. Be sure the rpm rating of the abrasive meets or exceeds the rpm rating of the tool and that the product fits under the tool guard. Using a tool with a higher rpm rating than the abrasive being used can result in product failure and potential injury.
Mount products correctly. Pay attention to how wheels and discs are mounted on the tool spindle. Mount them flush rather than at an angle. Using an angled mount or incorrectly sized adapters can cause a wheel imbalance and excessive vibration, which may result in product failure. In addition, be sure to always unplug the tool before installing or changing over an abrasive product.
Jog the tool. Run it at free spin for 30 seconds before contacting the workpiece to make sure the product is running properly. Attempting to start a grinding or cutting tool while it's touching the work surface can cause the wheel to bind or break and result in significant kick back.
Watch the edges. Several product types, including wire brushes and cup brushes, work very well on flat surfaces. But these brushes can catch on the workpiece edge and create safety issues. Pay close attention to the workpiece edges when using any type of wire brush.
Pull, don't push. When starting to grind, use a pulling motion rather than a pushing motion. A pulling motion is flatter and provides more operator control.
Inspect the product. Any time an abrasive product or tool is dropped or left in harsh conditions, inspect the abrasive for visible cracks or damage. Also, check wire brushes occasionally for rust, which can weaken the metal wires and create long-wire breakage.
Conclusion
Safety in a manufacturing environment is a group effort that goes beyond the regular daily safety meeting. Training operators to use abrasive products safely is step one. Companies must also provide employees with the right tools and equipment to carry out safe practices and follow up by monitoring safety and making it a priority. Taking the time and making an investment in safety can deliver significant productivity and competitive benefits in the long run.
This article was written by Tony Hufford (category manager, metal fabrication, Weiler Abrasives, Cresco, Pa.) for the American Welding Society