Solving The Welder Shortage With Cobots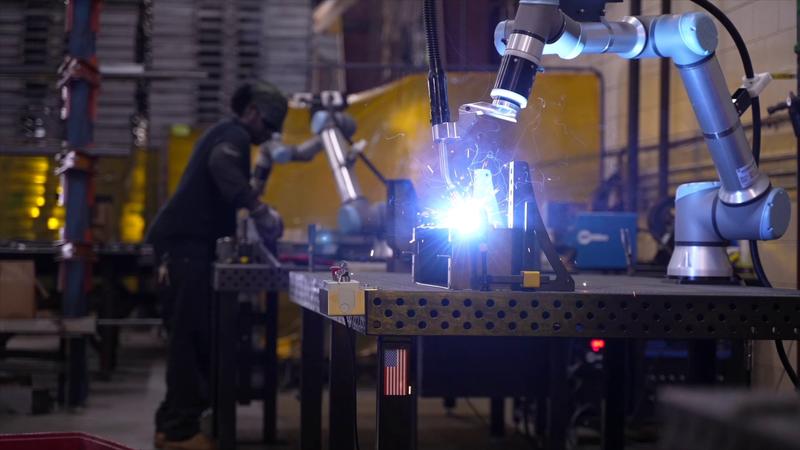 The skilled welder shortage is a global problem, but two companies overcame skepticism and embraced automation and robotics to bridge the gap between the number of welders needed and the number of available qualified welders.
Although compounded by the global COVID-19 pandemic, the current welder shortage is nothing new. The aging welder workforce, the lack of a substantial new generation of welders, and career advancements/transitions, along with an unprecedented surge in the demand for metallics across all industries, caused a headache for welding shops long before the pandemic. That brewing storm strengthened to a hurricane once the pandemic hit.
Advanta Southeast LLC, Manning, S.C., a company that offers turnkey industrial metal fabrication services, and Industrial Mfg. Services (IMS), Lancaster, S.C., a manufacturer of fabricated metal components for OEMs in the heavy-machinery industry, both embarked on the route to automation and adopted collaborative robots (cobots) to overcome the skilled welder shortage.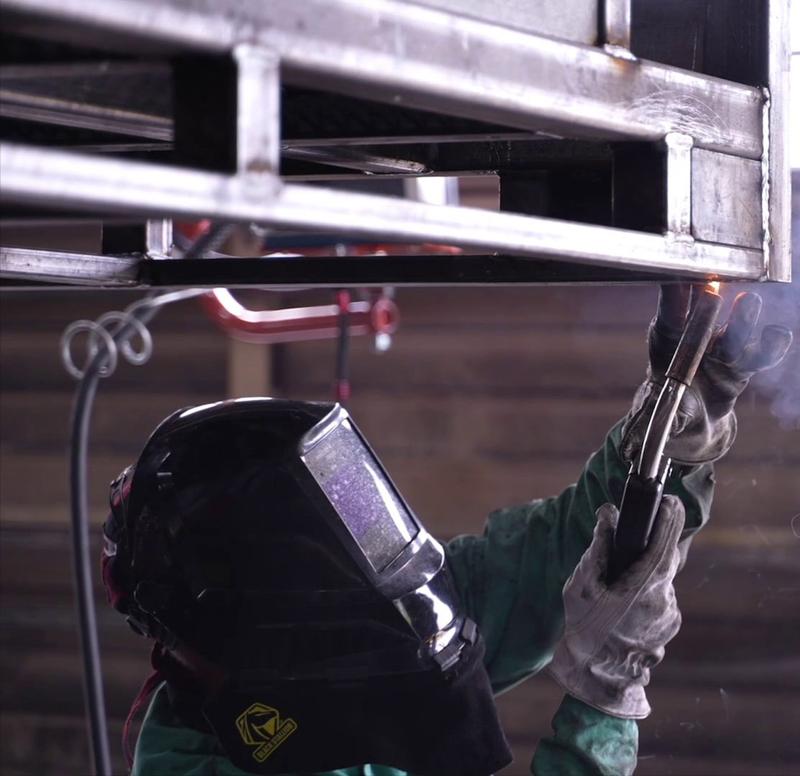 Challenges on the Road to Automation
Both companies experienced obstacles as they moved toward automation. For manufacturers, these challenges are often based on the welding teams' initial experiences with traditional robots.
Many companies hedge on robotics due to employees' resistance to change and questions about whether or not their jobs will be replaced.
Companies that are already time-strapped are worried about the complexity of robotic technologies, especially when some welders may not be tech-savvy enough to operate complex solutions. For that reason, extended training and onboarding along with extensive support are often cited as concerns.
"Some managers questioned just how efficient welding robots could really be as far as learning to program them and set them up," said Mark Moye, plant manager, Advanta.
This can ring true for high-mix, low-volume projects. Many may ask, "Does the programming time trump efficiency?"
In addition, many welding shops do the math and realize that the capital investments for traditional robots, exacerbated by the costs of extended setup times and prolonged support services by robot integrators, are high. This can make manufacturers perceive target return on investments (ROIs) as unattainable in the short term.
Technological Innovations Overcome Challenges
Despite the hurdles companies may face, there are innovative solutions that aim to democratize robotics use and make automation investments more affordable. Developed with proven technologies from renowned brands, new welding cobots and their surrounding equipment are becoming easier to use. Many also eliminate the complexities of traditional industrial robot setups.
When researching welding automation systems, apart from considering inherent functionalities, manufacturers should ask themselves the following questions:
-How are the welding automation systems installed?
-What is required to program the welding automation systems?
-How easy is it to configure the welding automation systems for different applications?
To make welders more receptive to cobots, during vendor demos, many fabrication shops are asking welders to test-drive the systems to see how comfortable they are with the setup and how the systems work.
Programming ease will inevitably affect the welder's adaptability. The harder the system is to learn, the less likely it will be adopted by welding teams, so selecting a cobot that is easy to program is key. An important factor that can affect the ease of programming is whether the robotic welding system needs to be programmed on a robot interface or on a commonly used device, like a phone or tablet. Cloud capabilities and an intuitive interface are additional factors that can help users fix issues quickly and in real time.
Helping them avoid some of the challenges associated with robotics integration, Advanta Southeast and IMS both opted for an automated cobot welding solution that could be programmed with a simple app on a mobile device. This meant the teams did not need to learn robotics programming.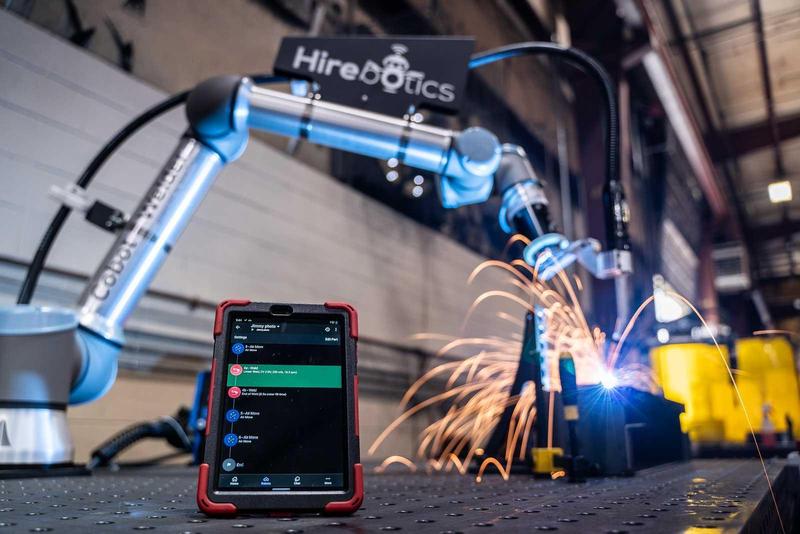 At first, the welders at IMS were skeptical about how easy the cobot would be to use; the company had tried other cobots and noticed few distinct advantages regarding simplicity and programming times. However, after the onboarding progress, the welders were using the cobot in about half an hour.
"Programming a traditional robot takes at least an hour," explained Justin Payne, manufacturing engineer at IMS. "It took me four minutes and 19 seconds at one welding cobot station."
At Advanta Southeast, thanks to the limited programming needs of its selected system, welders started to enjoy working with cobots. The cobots were dedicated to mundane and repetitive tasks, while welders were assigned more value-added jobs, thus improving employee efficiency and job satisfaction.
Both companies also experienced accelerated throughput, allowing them to take on more work despite the skilled welder shortage.
Advanta Southeast was able to expand its offerings and take on new types of projects in different locations. For example, the company was recently awarded a large new mandate of towers for Rivian, Irvine, Calif., a provider of electric vehicles. These projects would have been impossible for the company to take on prior to adopting its welding automation systems.
"We increased our output to 400% compared with manual welding," Moye said.
IMS has also seen an uptick in diversified work. To date, the company has not experienced any problems with part consistency, repeatability, and quality.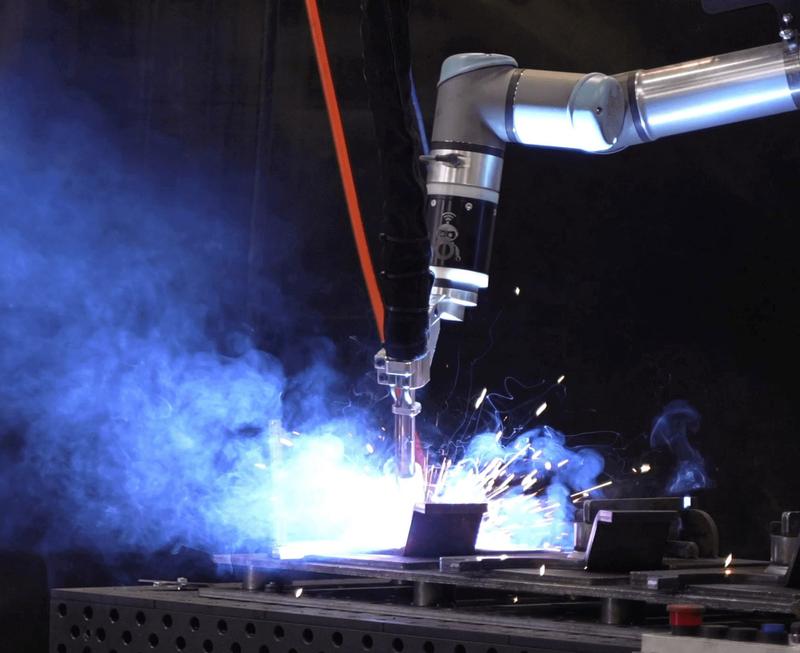 Both Advanta Southeast and IMS consider welding cobots the wave of the future. As IMS Manufacturing Engineer Matt Blowers said, "I would tell anybody if they're on the fence or questioning it, go for it. They won't regret it."
This article was written by Rob Goldiez (CEO of Hirebotics, Nashville, Tenn.) for the American Welding Society.