Fabricating the Enterprise's Newest Successor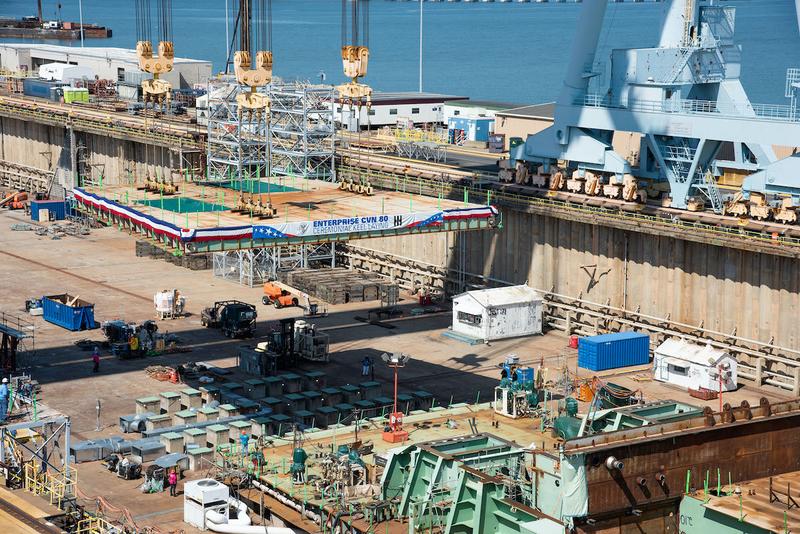 On August 27, 2022, Olympic gold medalist Katie Ledecky gave the command to Big Blue crane operator Charlie Holloway to lower the Enterprise (CVN 80) ceremonial keel unit into dry dock number 12 at Newport News Shipbuilding (NNS), Newport News, Va., a division of HII.
Lead photo: The ceremonial keel of Enterprise (CVN 80) was lowered into the dry dock at HII's Newport News Shipbuilding during a ceremony on August 27, 2022. (Photo by Chris Rose/HII.)
As a part of these festivities, Olympic medalist Simone Biles also participated via video. As sponsors, Ledecky and Biles had both been on-site for the initial CVN 80 steel cutting on August 24, 2017, and now at the keel laying, their initials were welded onto steel plates by NNS shipbuilders Jonathan Rishor and Ephony King, respectively. These steel plates will be permanently affixed to the ship's structure.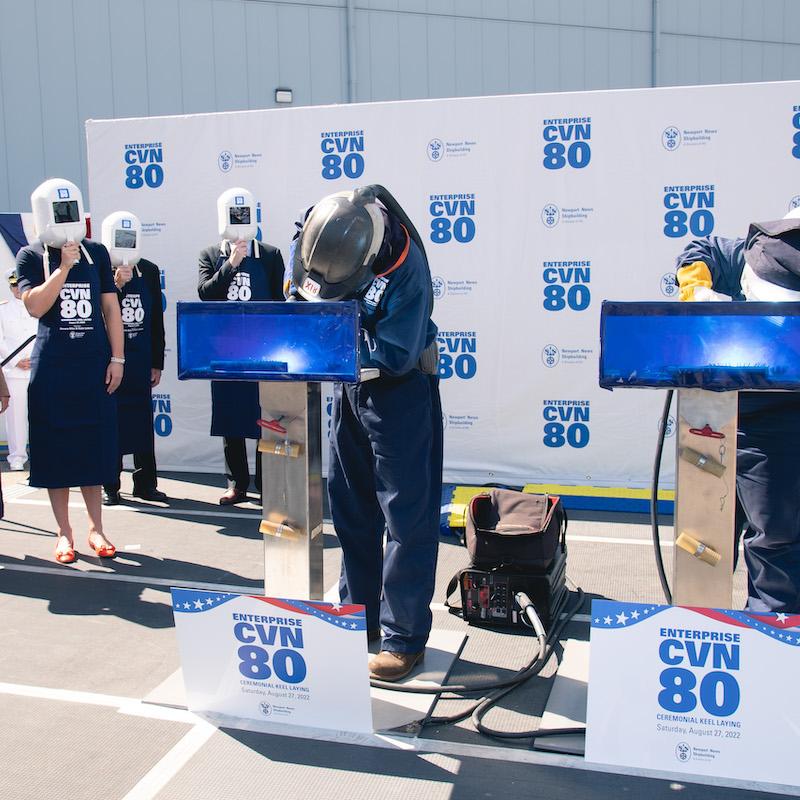 A Legendary Name
CVN 80 is the newest aircraft carrier to be named Enterprise. It is the ninth U.S. Navy ship and the third aircraft carrier to carry the legendary name. It is the third ship of the new Gerald R. Ford class of aircraft carriers and has 5 acres of flight deck space compared to the 4½ acres on
Nimitz-class carriers. To build a ship of this size involves more than 60,000 tons of U.S.-produced steel and takes more than 5000 shipbuilders to cut, form, fabricate, fit, and weld it into superlifts that make up the aircraft carrier. The largest of these superlifts weighs 1025 tons, and they are all assembled on the final assembly platen prior to being lifted into the dry dock by Big Blue, the shipyard's 1050-ton capacity gantry crane.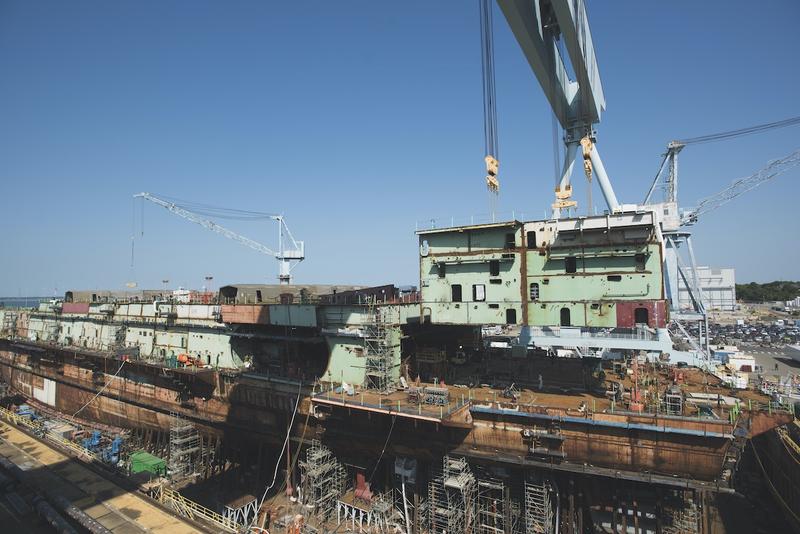 Welding Plays a Key Role
A wide range of welding processes are utilized to efficiently join the steel, piping, and machinery components with material types encompassing carbon steel, high-strength low-alloy steels (HSLAs), stainless, copper nickel, nickel copper, aluminum, and various other alloys. A summary of the primary welding processes utilized in this effort is as follows: shielded metal arc welding (SMAW), gas metal arc welding (GMAW) (with spray, pulse, and short arc transfer modes), flux cored arc welding, submerged arc welding (SAW), gas tungsten arc welding (GTAW), stud welding (SW), and resistance welding (RW) along with brazing and soldering. Where possible, these welding processes are applied in the semiautomatic, mechanized, automated, and robotic configurations to further enhance the deposition rate of the filler metal. Another challenge while constructing an aircraft carrier is to keep an adequate supply of filler metal to feed these welding processes, which will consume more than 4,000,000 lb from U.S. manufacturers. Along with this, NNS has 2100 welders on staff to support aircraft carrier construction and the Virginia-class and Columbia-class submarine programs. As superintendent of the welders, Keith Liakos has responsibility for keeping a steady supply of welders deployed across 550 acres of shops and waterfront build sites. His team is also engaged with surrounding schools as they seek to develop the next generations of welders.
In addition to building and maintaining aircraft carriers, more than 2000 businesses from 45 states are engaged in supplying parts, equipment, and services. This nationwide industrial base, which includes NNS, involves a workforce of more than 121,000, and these companies invest in new equipment, technology, and methods to become more efficient and competitive. To maintain a cohesive and consistent supply chain, these suppliers established the Aircraft Carrier Industrial Base Coalition (ACIBC) in 2004. ACIBC seeks to preserve the strength of the aircraft carrier force and promote the value of the aircraft carrier industrial base as a vital part of the nation's overall defense structure. ACIBC suppliers are also focused on training the current workforce and the development of future craftspeople. While welding is a key service provided by these suppliers, there is also a need for skilled personnel who can serve as fitters, machinists, electricians, painters, sheet metal workers, HVAC technicians, pipefitters, riggers, dimensional control technicians, and inspectors.
Conclusion
When CVN 80 eventually joins the U.S. Navy fleet, it will carry with it various items from the previous Enterprise (CVN 65) as a means of continuing the legacy.
This article was written by Lynn E. Showalter (welding engineer 5 at Newport News Shipbuilding, Newport News, Va.) for the American Welding Society.