Leveling Up Skilled Trades Education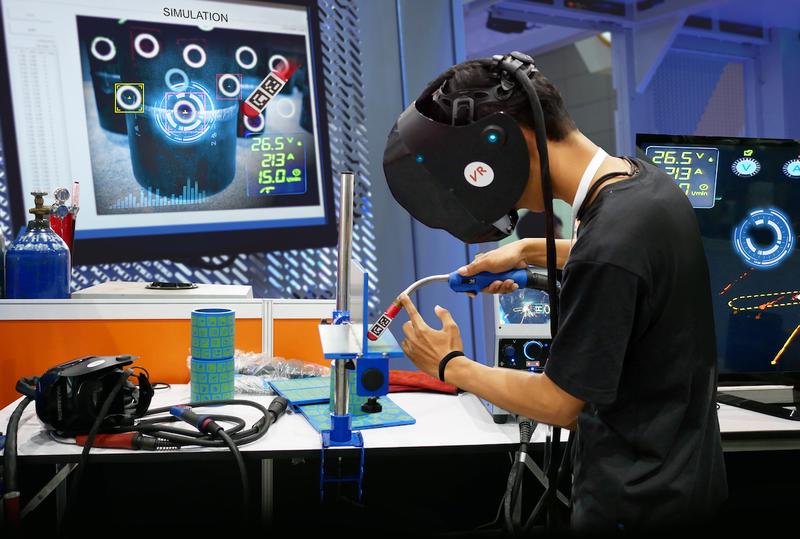 While we often see virtual reality (VR) and augmented reality (AR) used for gaming, entertainment, and other commercial ventures, these technologies also have great potential for welder training.
Original equipment manufacturers, like The Lincoln Electric Co. and Miller Electric, have explored the opportunities presented by VR and AR technologies, leading to the creation of their respective virtual welding machines, the VRTEX® and AugmentedArc®. While both products give students and other interested parties much-needed exposure to the industry, and a safe space in which to get it, the technology was often deemed novel. Successful welding, along with many skilled trades, is reliant on regular, hands-on practice and repetition. Thus, these tools were at times overlooked when determining how to affordably produce highly skilled welders.
However, in 2020, we saw a seismic shift in how technology is viewed in skilled trades. The COVID-19 pandemic pushed distance learning and educational technologies, including AR and VR, to the forefront. Instructors were forced to reevaluate their plans for maintaining and growing their welding programs. Needing a stopgap between in-class instruction and home learning, distance learning forced change for many programs previously reluctant, or too underfunded, to pursue training avenues supported by technology.
The successful implementation of AR and VR education has resulted in many training organizations looking to leverage accessible virtual platforms for educational purposes. While dedicated virtual welding machines may have previously been cost prohibitive, the costs of these machines have gone down and curriculum developers around the world are seeking ways to leverage cheaper hardware, like that of Meta Quest, to create an affordable means of delivering training to novice students. Cost savings on materials and consumables is another added benefit of a virtual welding environment. Virtual environments are also safe for new welders, who can progress to a true welding lab once they have demonstrated mastery of the fundamental knowledge, repetition, and physicality used in welding. Beyond reducing program costs, it has long been speculated that gamification makes younger generations more receptive to learning. Gamification is the application of game mechanics and logic to an educational setting. It is not wholly reliant on technology but utilizes aspects such as healthy competition and rewards, as is the case of digital leaderboards or badges earned through skill mastery. Generations Z and Alpha have been exposed to gamification more than the generations that preceded them and were born into technology, making them prime candidates for virtual learning techniques.
In 2022, AWS partnered with Seabery Augmented Technology, a developer of educational tech solutions, to integrate our Fundamentals of Welding curriculum package into Seabery's augmented reality simulator, the Soldamatic™, for Spanish-speaking audiences. The activities included in the Soldamatic simulator are completed through the use of resin weld replicas mapped to produce AR overlays. The result combines augmented elements with the real world to enhance the learner's experience. AWS is excited about this endeavor and considers it one of many opportunities to make viable learning solutions more readily accessible to students and educators alike.
While it remains to be seen whether this moment will be part of a fleeting trend in learning or endure to reframe the training landscape for skilled trades, it has led to critical conversations around the future of welding education and appealing to younger learners by meeting them where they are. Placing the student at the center of the learning process has proven to be a successful means of reaching learners and realizing outcomes. Using emergent technologies to do so, particularly those that weren't specifically designed for educational purposes, introduces challenges. Though this holds true, it also presents powerful opportunities to modernize and improve skilled trades education.
This article was written by Alicia Garcia (director, education and training) for the American Welding Society.