Additive Manufacturing in a Naval Aircraft Carrier Construction Project
January 2023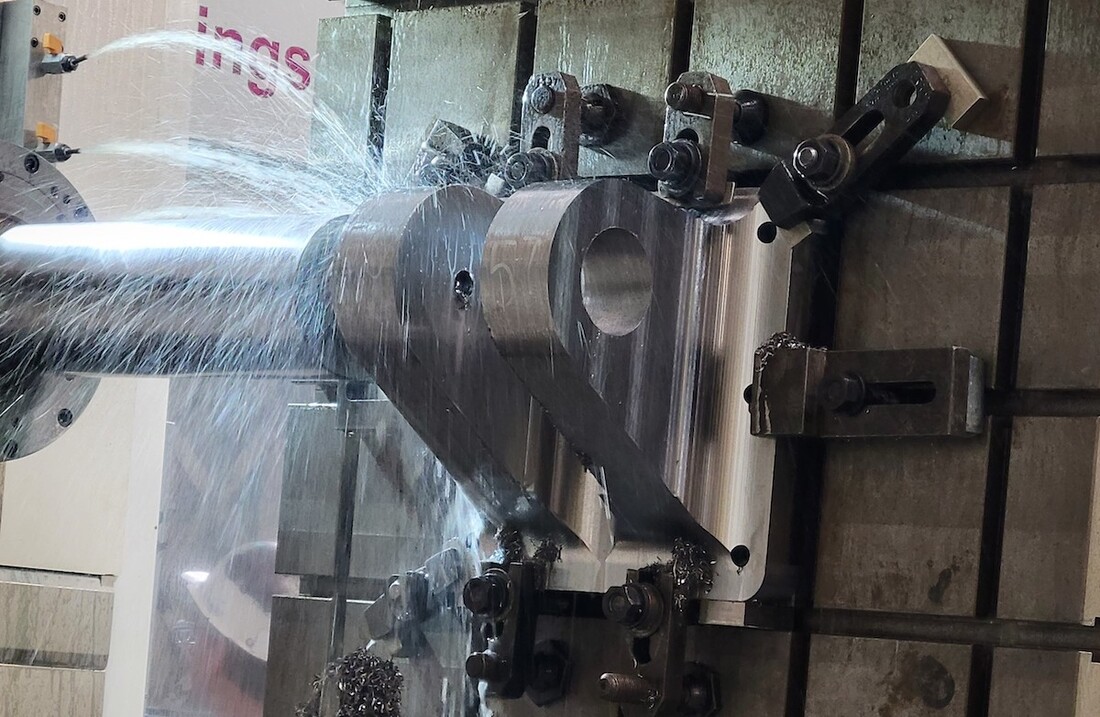 Additive manufacturing technology, or 3D metal printing using layers of welds, enabled Newport News Shipbuilding to stay on schedule with construction of the nuclear-powered aircraft carrier Enterprise (CVN 80) for the U.S. Navy.
Newport News Shipbuilding, Newport News, Va., a division of HII, also built the previous Enterprise, CVN 65, which was the world's first nuclear-powered aircraft carrier. At more than 1100 ft long and 130 ft wide at its widest point, the new Enterprise will be one of the largest aircraft carriers in its class, and many of its individual components will be proportionately large, including the 400-lb hinges that will attach the ship's reactor compartment door to the bulkhead. But creating these hinges the traditional way, via metal casting, would have been detrimental to the overall build schedule.
All aboard for Technology
"This hinge itself is simple," said Rich Wilmoth, an engineering manager at Newport News Shipbuilding. "However, it has a very important job: to keep the door that ensures containment in the reactor compartment affixed to the bulkhead and to operate properly."
The process of casting the hinges would have been slow enough to create scheduling issues with the overall construction of the aircraft carrier, so Wilmoth and his team explored options.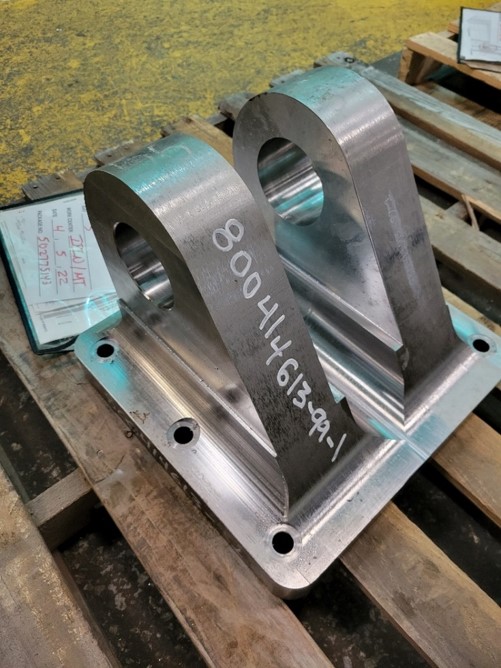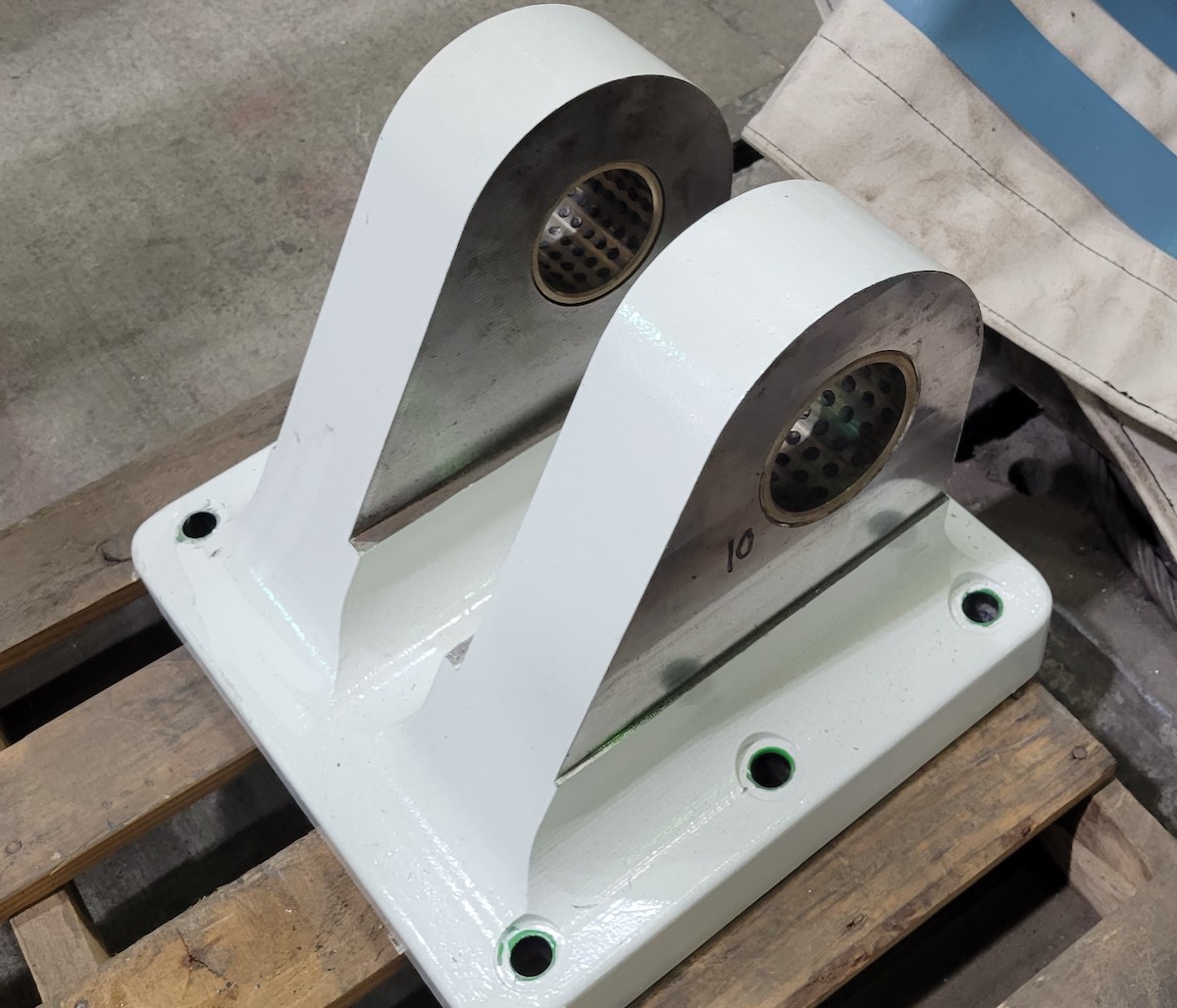 "One of the possible solutions that was brought to me was, 'Hey, can we additively manufacture these reactor compartment door hinges?'" Wilmoth said. "My first thought was, 'This is going to be very challenging,' not necessarily because of the technical aspects but because of all the approvals that would be necessary. So my team decided that we would keep pushing on the idea until someone told us 'No."
Many ship components are fabricated from low-alloy, quench, and tempered steels, namely, HY-80 and HY-100. Finding suitable alternatives or replacement materials for these steels is of high interest because it helps avoid scheduling delays.
Wilmoth and his team drafted a proposal to the Navy and approached Lincoln Electric, with whom it had already been working on several 3D metal printing projects and which houses the world's largest wire-based 3D metal printing factory.
MIL-100S-1 is the classification commonly associated with the welding filler electrodes used for joining these low-alloy, quench, and tempered steels. Lincoln Electric has been a provider of MIL-100S-1 electrodes for decades, but more recently, the company added the same product to its portfolio of electrodes for 3D metal printing via robotic gas metal arc welding. From there, a plan came together to use this solution to build the reactor compartment hinges in a way that was more amenable to Newport News Shipbuilding's overall construction schedule.
Wilmoth found the speed of the whole initiative surprising.
"It was something that I've never seen at the shipyard," he said. "We developed a process, a qualification plan, and had approval from the Navy in under ten weeks. My group worked very hard on it, but [Lincoln Electric] and the Navy also both stepped up, and they were excited about it, just like we were because it's new technology, and it's paving the way for what we can do in other items in the future."
Newport News Shipbuilding executed its approved qualification plan to ensure there was no compromise of quality or material properties with the hinges 3D-printed by Lincoln Electric. As such, additional parts and test coupons were printed and served as sacrificial articles for destructive testing and determination of mechanical properties. All components and test coupons also went through extensive nondestructive examination. The sacrificial articles were stress relieved in the same furnace cycle as the parts intended for deployment on the ship. The testing of more than a dozen bend specimens, more than two dozen tension test specimens, and more than four dozen Charpy V-Notch specimens demonstrated that the hinges met the necessary requirements for replacing the traditional hinge material. In addition, the shipyard functionally tested numerous subscale components, all of which exceeded the testing requirements.
3D metal printing offers a variety of other benefits, not just to Newport News Shipbuilding's operations but to manufacturers in just about any industry. It expands design freedom and provides the flexibility to implement improvements on the fly. The ability to create replacement parts on demand lowers storage and inventory costs and helps manufacturers be more responsive to issues by incorporating design improvements as they go.
3D metal printing solutions also reduce waste material and encourage sustainability. Traditional manufacturing relies on machining large metal blocks, and scrap material has to be reprocessed before being reused in the material stream, all of which contributes to the manufacturer's carbon footprint. But a robotic process that builds parts layer by layer ensures nearly all of the material is used the first time.
A Legacy of Innovation
The prompt turnaround on the manufacturing of the reactor compartment door with the 3D printing solution is helping with continued construction on the Enterprise (CVN 80).
"The earlier Enterprise was all about innovation," Wilmoth said. "So I think it was very appropriate that we have the first permanent additive manufactured parts on the second Enterprise. It could have happened on any other ship and we would have gone through the same steps, but we feel like it was very appropriate, and kind of exciting, that it happened on CVN 80."
This article was written by Richard Wilmoth (engineering manager) and Jade Nguyen (engineer), both at Newport News Shipbuilding, and J. Ben Schaeffer (engineer, additive solutions) and D. Mark Douglass (business development manager, additive solutions), both at The Lincoln Electric Co., for the American Welding Society.